Useful books for first aiders
The Complete First Aid Pocket Guide – 2018 (John Furst)
Written by First Aid For Free's creator John Furst, this concise informative guide is the perfect 'go to' for a first aider on the move, or a great resource to place in your home first aid kit/medicine cabinet for any unexpected events.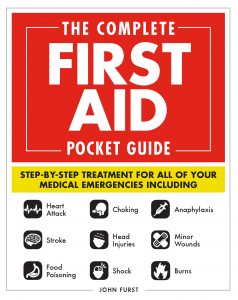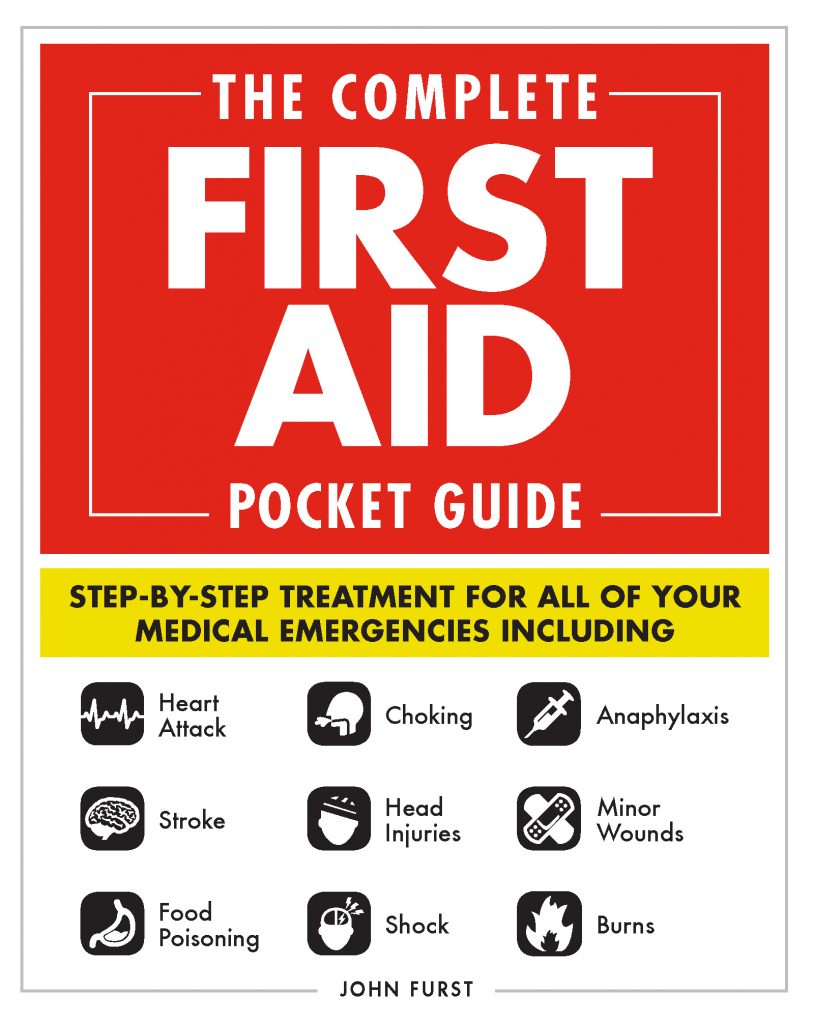 From minor cuts and burns, to heart attacks and strokes, this handy, take-anywhere guide gives you the knowledge and advice you need to recognize and respond to any medical emergency.
Be prepared for any medical emergency and handle it safely and efficiently with The Complete First Aid Pocket Guide. Quickly identify signs and symptoms of a wide range of medical conditions and learn how to recognize the difference between a minor injury or illness, and those that are more serious with this essential handbook.
Each section of The Complete First Aid Pocket Guide includes a quick list of signs and symptoms to look for and step-by-step first aid instructions for dealing with each situation, all in user-friendly, simple language that's easy to understand. Medical issues covered include:
–First aid basics, including roles and responsibilities of a first aider, managing an incident, activating emergency services, and infection control
–Lifesaving skills including the recovery position, cardiopulmonary resuscitation (CPR), and use of an automated external defibrillator (AED)
–Minor injuries and conditions, including soft tissue injuries, splinters, blisters, eye injuries, nosebleed, diarrhea, and vomiting
–Traumatic injuries including severe bleeding, amputation, shock, fractures, crush injuries, burns, and head and neck injuries
–Medical emergencies including heart attack, stroke, asthma, anaphylaxis, hypoglycemia, meningitis, seizures, poisoning, and emergency childbirth
–Environmental conditions including hypothermia, frostbite, heat stroke, sunburn, and lightning strike
–Pediatric emergencies and illnesses, including assessing an unresponsive child or baby, pediatric cardiopulmonary resuscitation (CPR), choking, croup, and febrile seizures
–First aid kit lists for home, vehicles, and outdoor use
With an appendix featuring an A-to-Z list of every condition covered, it's easy for you to quickly find the exact information you need in any situation you may face. With its small trim and portable size, The Complete First Aid Pocket Guide is the perfect addition to a home first aid kit, car first aid kit, disaster-survival bag, as well as a pocket companion for EMTs and other first responders in the field.
Available in hard copy and e-book format at amazon or your local Barnes and Noble.
First Aid Manual Revised 10th Edition – 2016 (St John Ambulance, British Red Cross, St Andrew's First Aid)

Undoubtedly this book is a bible for volunteers in the UK's three leading first aid charities (St John Ambulance, British Red Cross, St Andrew's First Aid).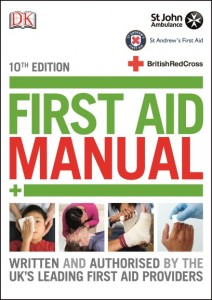 Live-action step-by-step photographs show you how to treat casualties and over 100 medical conditions and injuries, from minor burns to heart attacks. Find information on the latest life-saving procedures and resuscitation guidelines as well as basic first aid techniques, like bandaging and applying dressings. Plus, chapters explain what it's like being a first aider, what to do in an emergency situation and how to look after a casualty. Keep it handy – for home, for work and for leisure.
The book is comprehensive, ranging from exotic animals (scorpion stings) to everyday problems such as cuts, grazes and bruises. It is aimed at the general public, so no prior knowledge is needed before picking up this book.
There are some excellent anatomy pages with good diagrams for those interested. In addition, there is lots of 'extra' information on how to be a first aider and managing situations. When buying, ensure you have the latest up-to-date version (currently 10th edition)
---
First Aid Made Easy – 2014 (Nigel Barraclough)
This book is aimed at those undertaking a First Aid at Work course in the UK. It is in a similar format to the book above, with clear step by step instructions and sections on anatomy & physiology. However, this book is significantly cheaper than the manual above.
First Aid Made Easy is a comprehensive full colour First Aid Manual, designed to complement any longer first aid course, and is approved for use with HSE First Aid at Work courses.

The large A4 page layout allows very clear, in-depth, yet easy to understand descriptions of many first aid theories.
Once again, another very good book aimed at members of the public as no prior knowledge is required.
---
First Aid FAST for Babies and Children (Dorling Kindersley)
Another excellent book from Dorling Kindersley.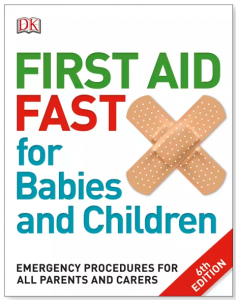 From first aid essentials to life-saving procedures, the new edition of this manual, published in association with the British Red Cross, gives you the knowledge you need instantly if a baby or child falls ill or gets hurt.
User-friendly step-by-step instructions tell you how to treat babies and children for more than 100 medical conditions and injuries, from minor cuts and burns to meningitis and asthma attacks. First aid procedures are illustrated photographically to give clear, detailed guidance; plus they're all colour-coded for quick reference when you are in a hurry!
This book has a very similar format to the general manual produced by DK (first listing in this post). The book tackles almost every conceivable first aid situation that you could encounter. In addition, there are some excellent pages on how to prevent accidents in the home. A worthwhile read, especially for new parents. More advanced first aiders may find this book to be a bit basic, and quite repetitive from the general manual.
---
Sick / Not Sick: A guide to rapid patient assessment. Second edition (AAOS)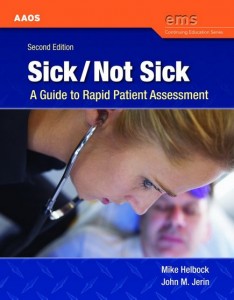 This book is aimed at more advanced first aiders & first responders (such as those working for a voluntary organisation / private company). The book is based around the principle that an initial assessment of a casualty during the first minute or two should be used to determine whether the patient is sick (and therefore needs immediate treatment / assistance) or not sick (condition not immediately life threatening). The book uses scenarios which you can test yourself on.
Completely updated with new case studies throughout, Sick/Not Sick, Second Edition is designed to help EMS personnel develop rapid patient assessment skills. This resources distils years of field experience into a workable formula that both inexperienced and experienced providers can use. Sick/Not Sick teaches EMS personnel how to quickly collect information and discern what details are important in order to provide immediate initial care. After all, in EMS it comes down to whether the patient is SICK or NOT SICK.
This is certainly interesting reading for experienced first aiders and voluntary ambulance crew. The book really emphasises that initial decision in whether the patient is 'sick' and therefore needs more advanced medical care. Whilst this may be second nature to many experienced first aiders, the book does bring up several interesting examples and thought-provoking cases. However, the second edition has quite a hefty price tag attached to it. I'd recommend trying to find a second hand copy or picking up an old first edition (which is almost just as good).
---
Wilderness Medicine: Beyond First Aid (Dr. William Forgey)
An excellent book which tackles some of the problems posed when emergencies occur in remote areas.
You and your group are on the adventure of a lifetime, far from civilization, surrounded by wilderness. Someone gets hurt or sick. What do you do? With Dr. William Forgey's comprehensive Wilderness Medicine: Beyond First Aid in hand, you can recognise, assess, and treat many kinds of medical emergencies. This illustrated text is essential reading for anyone from trip leaders, guides, and search and rescue groups to EMTs, paramedics, and physicians who must provide immediate care when access to a medical facility is difficult or impossible. Learn how to survey, assess, and stabilise the victim and the medical situation, what questions to ask to gain necessary vital information, how to manage physical symptoms as well as care for wounds and orthopaedic injuries and much more.
This book is useful for both new and experienced first aiders, it goes into great detail about how to manage a situation when accessing medical help is a little more tricky than a simple phone call.
---
As for Anatomy & Physiology, there are plenty of resources on the internet which mean buying a book is required. In addition, many of the books listed above contain relevant A&P for first aiders.
Our online first aid classes are a great way to start learning about first aid rather than spending money on a first aid textbook!