How to Use a Digital Blood Pressure Monitor
A digital blood pressure monitor is a fully or semi-automated, simple, lightweight machine used for monitoring blood pressure. It measures blood pressure and pulse simply and quickly and is easy to use, reliable and portable.
Digital blood pressure monitors are battery operated and consist of a case with on/off switch, start button, and in some machines a pre-set switch and memory button. Different models and brands will have different designs.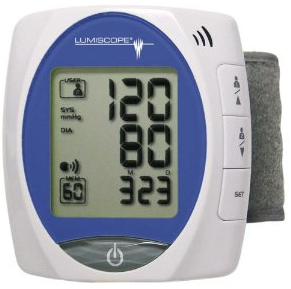 The monitor will have a display showing the systolic blood pressure, diastolic blood pressure and pulse. The machine comes with an arm cuff with air tube and air jack to connect the cuff to the machine. The regular adult blood pressure cuff measures 14 x 48cm and is designed for an arm circumference of 22 – 32cms. Large cuffs are available size 16 x 65cm and designed for an arm circumference of 32 – 42cms.
Some digital blood pressure monitors will have wireless capability allowing them to transmit recordings to a smartphone app or computer.
Using a Digital Blood Pressure Monitor
The exact method of use will depend on the brand of blood pressure monitor. As a general guide, the following steps may be required:
Make sure the machine has functioning batteries
Insert the air tube from the cuff into the air jack (if present)
Switch the button to ON. The symbols on the display light up for a few seconds to check the display. Then all the symbols go out and the air release symbol starts to flash. When the machine has finished its self-test the heart symbol indicates the machine is ready
Wrap the cuff around the bare arm so that the centre of the bladder is positioned 2-3cms above the elbow joint on the inside of the arm
Close the cuff with the fabric fastener
If possible lay the arm out with the palm of the hand facing upwards and the cuff at approximately heart level
Press the start button. When a target value is reached, air is released and the value in the display counts downwards. As soon as the machine detects the pulse the heart symbol flashes and a buzzer sounds
When the machine no longer detects the pulse and whilst the cuff pressure is dropping the systolic and diastolic blood pressures are displayed
The pressure drop symbol appears to announce the end of the measurement
When all the air has been released the heart symbol appears in the display and the pulse and blood pressure are displayed alternately for about 5 minutes
If the machine has a memory button, after each measurement the result is automatically entered in the memory and the preceding measurement is erased. If you want to call up the last reading hold down the memory button in order to display it.
Switch off the machine. If you forget to do so the machine will switch itself off after 5 minutes
If an error occurs during measurement the letter E or EE is displayed. This may occur because:
There was too much movement of the arm for a reading to be taken – the casualty should keep as still as possible
The cuff was not fitted correctly – remove and replace
Clothing constricted the blood flow – remove or cut the clothing
There was still air in the cuff when the machine switched on – the machine may be defective
The cuff was not inflated sufficiently in comparison to the expected blood pressure – repeat with an increased expected pressure
Best Digital Blood Pressure Monitors