About Us
Firstaidforfree.com is a free online first aid resource, with a mission to increase awareness of first aid & lifesaving skills.
We believe everyone is a potential lifesaver in an emergency first aid situation. Everyone should have the opportunity to learn basic first aid skills.
Our Free Training Courses
We provide free online first aid courses that anybody can complete from the comfort of their own home. Our free online courses include: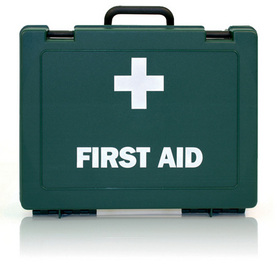 Basic online first aid
Advanced online first aid
Pediatric first aid
Automated External Defibrillator (AED)
Anaphylaxis awareness
Asthma awareness
Also, our first aid blog is updated with the latest first aid news & updates.
Each of our first aid course modules ends in a quiz so you can check your knowledge. After you have completed all the modules you can download a free online first aid certificate in PDF format.
Please note you'll need to register an account with us before you can access our free online first aid courses.
Our History
Firstaidforfree.com was set up by John, a first aid instructor & Emergency Medical Technician (EMT). Frustrated by the lack of free, reliable & accurate first aid information available on the internet, John set out to develop a number of interactive first aid resources to enable people to learn basic first aid skills at any time. 
Our team is now made up of first aid instructors and enthusiasts from across the world. We work hard to ensure our content remains up-to-date with the latest CPR and first aid guidelines. 
Our Statistics
Here are some facts about us:
Since starting, 40,000 people have completed our basic online first aid course
A further 5,000 have completed our advanced online first aid course
We have had over 4 million page views since launching
70,000 people visit our website each month
Our First Aid Network
We have a number of sister sites which you may be interested in!
> What is CPR? – learn the science behind Cardiopulmonary Resuscitation and how it can save lives.
> LearnCPROnline – dedicated to providing free CPR courses
> CPR Test – test your knowledge of CPR with these free CPR tests.
> First aid PowerPoint – free online first aid powerpoint presentations
Interested in advertising on any of our sites? Feel free to get in touch.
Terms of Use
Make sure you read our medical disclaimer and privacy policy. By using this website you agree to the terms of our medical disclaimer and privacy policy.