The role and responsibilities of an emergency first aider
An emergency first aider has various roles and responsibilities. It is important first aiders take these roles and responsibilities seriously as first aid is potentially lifesaving in an emergency situation.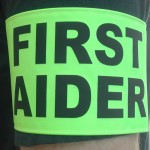 The role of a first aider is to provide immediate, lifesaving, medical care before the arrival of further medical help. This could include performing procedures such as:
Placing an unconscious casualty into the recovery position
Performing Cardiopulmonary resuscitation (CPR)
Using an automated external defibrillator (AED)
Stopping bleeding using pressure and elevation
Keeping a fractured limb still
A first aider's overall aim should be to preserve life. Other aims of first aid include prevent the worsening of the patient's condition and to promote recovery. Take a look at our article on the aims of first aid for more information.
A first aider has various responsibilities when dealing with an emergency situation. A first aider should:
Manage the incident and ensure the continuing safety of themselves, bystanders and the casualty
Assess casualties and find out the nature & cause of their injuries
Arrange for further medical help or other emergency services to attend (e.g: the fire service)
If trained, prioritise casualties based upon medical need
Provide appropriate first aid treatment as trained
If able, make notes/observations of casualties
Fill out any paperwork as required
Provide a handover when further medical help arrives
Do you have anything to add to this list? Feel free to leave us a comment! You'll need to register an account with us first before you can post comments.
Want to know more about first aid? Why not take our free online first aid course and you'll gain a free first aid certificate. The first aid training we provide is completely free with no hidden charges.