London Ambulance Service launches 'Shockingly Easy' campaign
The London Ambulance Service (LAS) has launched a campaign to get 1,000 extra Automated External Defibrillators (AEDs) in public places across London. AEDs are a vital component of the Chain of Survival to help people who suffer a cardiac arrest.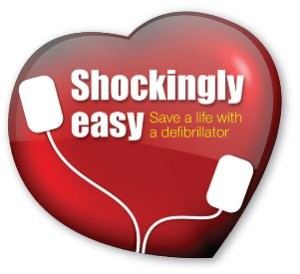 Around 28 per cent of people survive a cardiac arrest in a public place but, where there is a defibrillator and someone trained to use it, the chance of survival can increase to 80 per cent.

Our Chairman Richard Hunt says: "Don't leave it too late to do the right thing.

"Every shop, gym, hotel and office in London should have a defibrillator so they're ready to save a London life. And they cost very little – it really is just the paper clip budget."
The London Ambulance Service also run a defibrillator accreditation scheme to advise people on buying and maintaining a defibrillator.
A cardiac arrest occurs when the heart stops beating. This is different from a 'heart attack' which is a medical condition due to blocked arteries in the heart. You can find out more about cardiac arrests on our first aid blog. AEDs are vital in cardiac arrest as they can help restart the heart, we've got a blog post explaining how a defibrillator works.
Finally if you want to learn a bit more about first aid then check out our free online first aid course.