How to become a pool lifeguard
So you want to be a pool lifeguard? Lifeguarding can be a really good part-time job, especially for people who don't see the appeal of stacking shelves in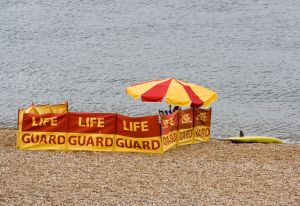 supermarkets.
Qualities of a good lifeguard
Generally, to be a good lifeguard you should be:
> Physically fit – you don't have to be a swimming champion, but you should be able to manage a few lengths without any difficulty.
> A team player – you'll often be working as part of a team of lifeguards. Its essential to be a good team player and be able to work with others
> A good communicator – you'll need excellent customer service skills to be a lifeguard. "Telling off" customers for breaking the pool rules can be harder than it seems! There may be cases where you have to ask people to leave the swimming pool, or deal with customer complaints. You'll need excellent communication skills
> Observant – goes without saying really!
Don't worry if you wear glasses / contact lenses. These shouldn't pose a problem as long as you can perform all the tasks in the lifeguard course without them. I wouldn't advise wearing contact lenses poolside though, stick to glasses!
Lifeguard training – the National Pool Lifeguard Qualification (NPLQ)
To be a pool lifeguard in the UK, you'll need to undertake the National Pool Lifeguard Qualification (NPLQ) course.
The NPLQ is typically a 5 day course followed by an assessment day. The course is a mix of lifeguarding theory, first aid and practical rescue skills.
The course is made up of two units:
Unit 1: The Principles of Lifesaving and Swimming Pool Supervision
This Unit comprises of most of the theory / practical skills:
> The principles of pool lifeguarding
> Water rescue skills, including timed swim rescues, conscious and unconscious casualties
> CPR skills on adult, child and infant
Unit 2: The Application of Supervision and Rescue in a Swimming Pool
This shorter unit assesses your ability to apply the skills learnt in Unit 1 to a work environment. You'll learn about the basic management of a swimming pool, slide management, diving areas, cleaning and maintenance, health and safety etc.
The theory on the course is not hard, however it can be intense over a 5 day period. There is quite a lot of first aid information to learn, and its always beneficial if you've been on a first aid course beforehand.
After the course you'll have to undertake an assessment. This normally comprises of demonstrating your water rescue skills as part of a group, followed by demonstrating an understanding of the theory and first aid procedures (normally a mix of scenarios and questioning). Each examiner has their own different 'style' though so make sure you learn everything thoroughly!
When you pass, you'll be presented with a temporary certificate. This will be followed by a permanent certificate which is valid for two years.
Finding an NPLQ course

You can use this form to search for NPLQ courses near you