First aid for puncture wounds
What is a puncture wound?
A puncture wound occurs when an object pierces the skin and enters into the body. This creates an open wound which is painful and may be bleeding.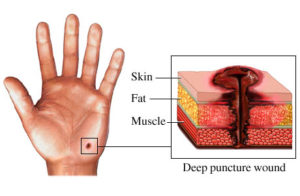 Punctures may occur due to any sharp objects such as glass, scissors, knives, pins, nails, wood splinters and sharp stones. The object may remain embedded in the wound or may have passed clean through the body part involved.
Puncture wounds can be dangerous as it is difficult to tell how deep the injury is. Damage to underlying blood vessels can cause serious bleeding to occur.
First aid for a puncture wound
Do not remove the object unless it is very small (for example,a small splinter)
Stop the bleeding by applying pressure around the wound – take care not to dislodge the object
If possible, elevate the limb to prevent further blood loss
Seek urgent medical attention
It is important to keep the object as still as possible to prevent further injury to the deeper structures below the skin and minimise any bleeding.
Whilst it is tempting sometimes to attempt to remove the object, this can actually worsen the situation by causing further bleeding and tissue damage. Removal of embedded objects should only be carried out by a qualified healthcare professional.
Puncture wounds are at a high risk of becoming infected. Seek early medical advice if there are any signs of infection such as swelling, warmth, pain or discharge.