'Witness' a stabbing live on Facebook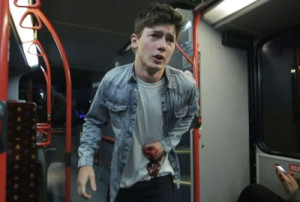 'Witness' is a new interactive first aid film from the British Red Cross encouraging young people to learn basic first aid knowledge. In the film the viewer is a witness to a stabbing on a public bus. The film also demonstrates the bystander effect with people unwilling to help the victim.
What makes this app different from others is that it takes the technology a step further. Instead of using select personal information in static shots or animations, viewers will see those elements in live moving footage, which makes it feel as if you are really in the film. This could happen to you – you could be there. So that begs the question – what would you do?
You can check out the app on the Live. Live it. Facebook page. What do you think?