How to take a pulse in first aid
Taking a pulse is an important first aid skill which first aiders should feed confident in doing. There are several reasons why taking a pulse is important and several techniques which you can use.
What is a pulse?
When you heart beats (contracts) it produces a pressure wave. This pressure wave can be detected and counted in order to provide information on the heart rate which is measured in beats per minute.
To feel (palpate) a pulse it is normally necessary to compress an artery against a bone. This is why a pulse can normally only be felt at specific locations on the body.
Why should I take a pulse?
A pulse can provide important information about the condition of a casualty. Various medical conditions and illnesses can speed up or slow down a persons's heart rate.
How do I take a pulse?
There are three main places where you can take a pulse:
1) The radial artery in the wrist
2) The brachial artery in the elbow crease
3) The carotid artery in the neck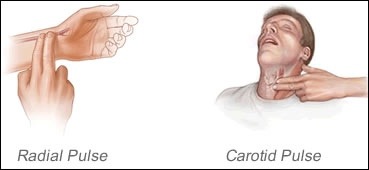 To take a pulse you should use two fingers to compress the artery. It make take some practice before you are able to find pulses quickly and accurately.
After you've found the pulse you need to count in order to determine the heart rate in beats per minute. You can either count for a full minute (this is the most accurate method) or count for 30 seconds and multiply by 2.
As well as the number you should also feel for the pulse rhythm – is it regular or irregular?
The best way to learn how to take a pulse is to practice practice practice! Find your own pulse first, then start practicing on other people (with their permission of course!)