New CPR Guidelines 2015 released
The new 2015 CPR Guidelines have been released! CPR guidelines are produced based upon the latest scientific evidence by the International Liaison Committee on Resuscitation (ILCOR)
Both the European Resuscitation Council and the American Heart Association have produced their 2015 CPR guidelines based upon the recommendations from ILCOR:
American Heart Association
The AHA have a web based interactive guidelines and have also produced a highlights of the new guidelines document. 
European Resuscitation Council
The ERC CPR Guidelines 2015 website allows you to download the new guidelines and watch videos from lead authors. The ERC have also produced a summary of changes document.
So what has changed for first aiders? 
In short – not much!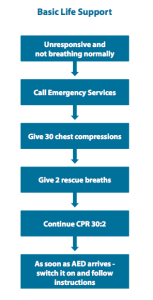 There are no significant changes to Basic Life Support (BLS) for first aiders. The 2015 CPR guidelines re-emphasise the importance of high quality effective chest compressions in improving survival from cardiac arrest.
Chest compressions the most important component of performing CPR, the guidelines also strongly recommend the use of an Automated External Defibrillator. Research has found that survival rates from cardiac arrest can reach 50 – 70% if early chest compressions and defibrillation are delivered. 
The 2015 CPR guidelines suggest rescue breaths should only be performed by trained rescuers. Each breath should only take 1 second and chest compressions should not be paused for more than 10 seconds to perform the 2 rescue breaths required. 
In summary the 2015 CPR guidelines for first aiders can be summed up by Professor Maaret Castren (Chair of the ERC)
"Push deep and fast enough, and start immediately! Don't loose any valuable time! If the victim does not respond or react, press at least 5 cm down on the middle of the chest, at a rate of 100– 120 compressions per minute."