AED Special Considerations and Situations
An AED (defibrillator) delivers an electrical shock to a victim in cardiac arrest. The following special situations may require the rescuer to take additional actions when using an AED to help a victim in cardiac arrest.
The Victim has a Hairy Chest
If the pads do not stick to the chest, press down firmly on each pad. Quickly pull off the pads. This will remove a large amount of hair. Put on a new set of pads and resume the steps for using an AED.
Some AEDs may also come with a disposable razor to remove excessive chest hair and ensure good pad contact. 
The victim is Immersed in Water or Water is Covering the Victim's Chest
Water is a good conductor of electricity. Do not use an AED in water. If the victim is in water, they will need to be removed before an AED can be deployed.
If the victim is lying in water or is covered in water quickly wipe the chest before attaching the AED pads. AEDs may come with a towel that you can use to dry the victim's chest with. 
The victim has an Implanted Defibrillator or Pacemaker
If you place an AED pad directly over an implanted medical device, the device may block the delivery of the shock to the heart. If possible, avoid placing AED pad over the device. Follow the normal steps for operating an AED.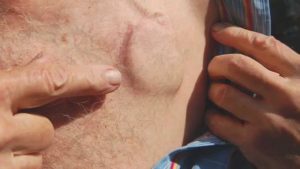 The Victim has a Transdermal Medication Patch
If you see a medication patch on a victim then do not place AED pads directly on top of the patch. The medication patch may block the transfer of energy from the AED pad. Remove the patch and wipe the area clean before attaching the AED pad to the victim.