Advantages of learning first aid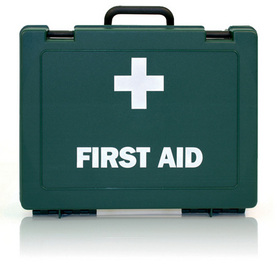 We have all heard the phrase 'safety first' and we should all be aware that being prepared is the best strategy for any emergency situation.
Medical emergencies and dangerous situations happen all the time and we are never sure when they will occur. First aid training can literally save people's lives and there are many other benefits – a small time invested into learning first aid can produce a lifetime of advantages.
Here's our roundup of the main advantages of learning first aid.
Your home will be safer
Whether you have a partner or wife and kids; first aid makes any home a safer place. If an accident occurs in the home you can act quickly if you know how to deal with the situation before an ambulance arrives. Children can also take courses in CPR, fire safety awareness and the use of defibrillators.
Your work will be safer
Many large companies give first aid as part of employee training; this is a very wise option because it guarantees they can all look out for one another. If an accident happens at work; employees may be able to prevent further injury to the victim of the accident. First aid courses in the work place promote safer practise amongst employees.
Your kids will be safer
Babies and children are more vulnerable to accidents and certain medical conditions. Learning basic pediatric first aid can be lifesaving in emergency situations such as choking or suspected meningitis. The team here at firstaidforfree.com believe that every parent should know basic first aid for children. 
You will be more employable
First aid is a lifeskill and can greatly enhance your CV and job applications. Being a first aider requires key skills which all employers love: communication skills, leadership & team working. You can demonstrate these skills by learning first aid. 
Want to learn first aid? 
Have we persuaded you of the advantages of learning first aid? Here at firstaidforfree.com we have a range of free online first aid courses. Each course comes with a free downloadable first aid certificate.