What Does ACVPU Stand For?
ACVPU is a scale used to assess and track a patient's neurological status and level of consciousness. ACVPU stands for:
Alert
Confusion
Voice
Pain
Unresponsive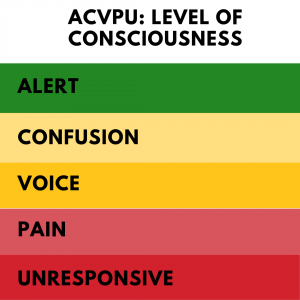 ACVPU has been developed from the more widely known AVPU scale. A new assessment point, confusion, has been added between 'alert' and 'voice'.
New confusion in an otherwise alert patient is a warning sign of serious underlying illness. ACVPU is designed to flag up new confusion to first aiders and first responders so that medical help can be sought before the patient deteriorates further.
The ACVPU scale has been introduced more widely in the United Kingdom as part of NEWS2: the National Early Warning Score used in hospitals and by pre-hospital services.
ACVPU is easier to recall and practice than the more in-depth Glasgow Coma Scale (GCS). GCS is a scale ranging from 3 to 15 which assesses three distinct areas: eyes, verbal response, and motor response (EVM).