What are the Different Types of Wound Dressings?
Any open wound – one where there is a break in the skin – should be covered with a dressing to help prevent infection until new skin has had a chance to form over the damaged area.
In this first aid blog post we'll discuss the different types of wound dressings you may find in a first aid kit.
Remember, always seek medical attention if you are concerned about a wound. Complications of wounds can include infection, poor healing, scarring and damage to underlying tendons and nerves. These complications can have long term complications if left untreated.
Adhesive Dressings
Ordinary adhesive dressings ('plasters' or 'band-aids') suitable for small cuts and grazes come in a variety of sizes and shapes, including ones designed especially for fingers and heels. They can be made of waterproof plastic or fabric, and have a small area of gauze to cover the wound with a self-adhesive border all around.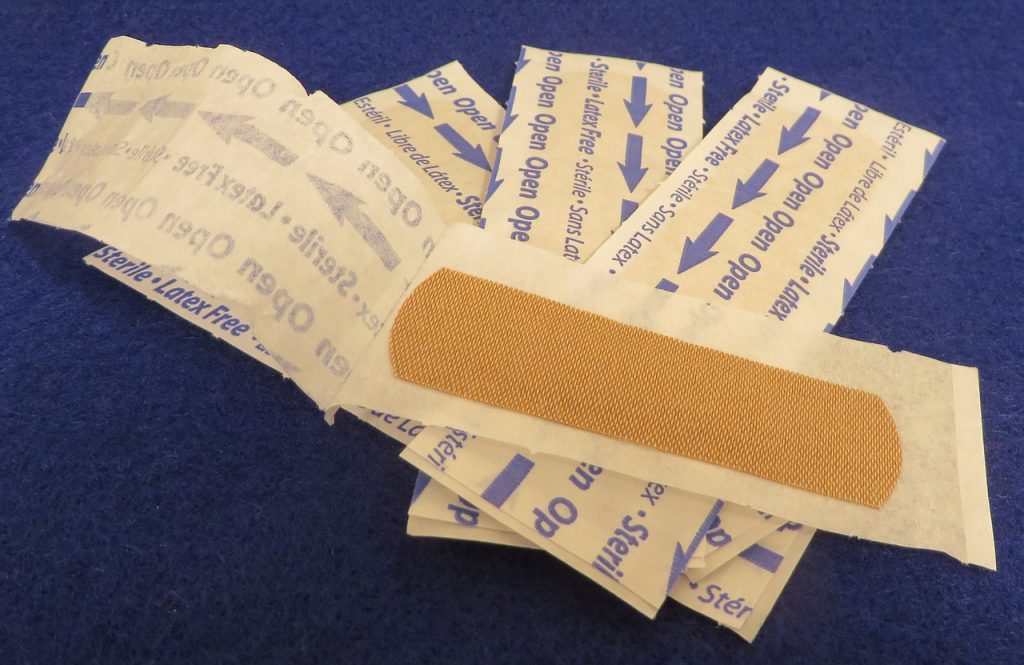 Plastic plasters should be used in all food preparation areas as fabric types are considered less hygienic. Fabric can also fray and may be less durable. Some people are allergic to the fabric types, and a few to the adhesive used even on plastic ones – but you can buy hypoallergenic brands.
Always check that the patient is not allergic before you apply an adhesive dressing.
Gauze Dressings
Larger wounds may require a gauze dressing, some of which have a thin plastic film on one side to stop the dressing sticking to the wound. Dressings are available in a variety of sizes.
They are usually sold in individual sterile packets and may incorporate a dressing pad already attached to a roller bandage. Sterile eye pads are also available.
Bandages
There are three main types of bandage:
roller bandages – the standard bandage strip
triangular bandages – for large dressings, immobilization when there is a suspected fracture, or to make a sling
tubular bandages – designed to fit on fingers and toes to secure dressings or support injured joints. Larger sizes are available to support ankle or knee joints
Bandages come in a variety of sizes and materials. Usually, you need bandage clips, adhesive tape or safety pins to secure them in place, but self-adhesive bandages are available.
Other Materials
To dress wounds you will also need:
disposable gloves
antiseptic lotion, spray or ointment, or sterile cleansing wipes
plain gauze pads or cotton wool for cleaning a wound
scissors and tweezers