Recommended Contents of a Basic First Aid Kit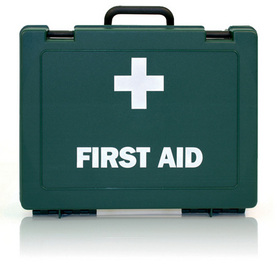 You may hope that an emergency never occurs, but if it does you need to be prepared. Part of being prepared is keeping an appropriately stocked and maintained first aid kit. Possession of an adequate first aid kit will equip you to provide emergency assistance if required. First aid kits can contain different contents, depending on your specific requirements and situation.
The best first aid kits are ones that take in to account the specific uses that the kit may be used for. If you are in a remote area the contents of the kit will vary from the kit that you keep at home.
First aid kits should be stored in a cool, clean and dry location that is childproof. A regular check of contents is essential to ensure that the contents are present, in date, and in good condition.
Make sure that all your family members know where the first aid kit is located so that it can be quickly retrieved in an emergency situation.
Here's our recommended contents of a small / personal first aid kit:
Contents of a basic first aid kit
Adhesive Dressing (2)
Adhesive Plasters (10)
Adhesive Tape (1)
Alcohol Swab (3)
CPR Barrier Device  (1)
Crepe Bandage 5 cm (1)
Crepe Bandage 7.5 cm (1)
Eye Pad – Sterile (1)
First Aid Pamphlet (1)
Gauze Swab (3)
Gloves Disposable (2)
Safety Pins (5)
Scissors – Blunt/Sharp (1)
Splinter Probe (1)
Sterile Eye Wash Solution Small (2)
Triangular Bandage (2)
Wound Dressing – Large (2)
Wound Dressing – Medium (2)
Wound Dressing – Small (2)