Preparing for an Advanced Cardiac Life Support (ACLS) course
For increased knowledge and skills in the area of life support the American Heart Association ACLS is hard to beat.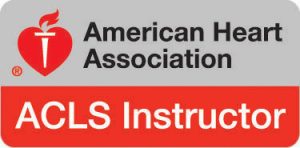 The American Heart Association ACLS course is widely recognized as the leader in this field. Their courses are aimed at healthcare professionals as the majority of the general public does not need their advanced cardiovascular life support certification.
In order to become ACLS certified you will have to take a course. You can do part of this online and then attend an AHA center to complete the skills training and assessment section.
ACLS preparation courses
If you are considering doing the American Heart Association ACLS class but would like to do some extra preparation before hand you may be interested in one of the other American heart association courses on offer. Obviously they offer the AHA CPR classes but you may find these ones a little more appropriate.
ECG and Pharmacology
This course has been designed to help increase your skills in reading and interpreting an ECG. The pharmacology section of the course will cover those medications normally used in a resuscitation situation and how they can interact with drugs either prescribed or recreational.
People take this course either because the ACLS pre course highlighted some areas of weakness in their knowledge levels or because they just want to be more prepared when they sit the ACLS exam. There are medical staff from all levels of qualifications i.e. surgeons to registrars, nurses to EMS staff on the ACLS courses and not all of them will have a lot of experience with either ECG's or pharmacology.
You can sit either subject or both of them depending on the gaps you feel you have in your knowledge levels. This class is classroom based and at the end of it your instructor will give you a certificate but the ultimate aim is to help you achieve your ACLS certification.
AHA Rapid STEMI identification
If you are looking to take a course that will not only improve your knowledge and understanding of some of the principles you will learn or have already learnt in your ACLS class, you could consider the Rapid Stemi ID course. This is available online and should count towards any continuing education requirement you have to comply with. At the end of the course you will sit a two part online exam and will then be able to print your certification.
This course is designed to give students more understanding of the medical condition known as myocardial infarction. You will learn via a combination of audio and video lessons. It is quite a lively course with interactive activities and some animation to help keep your focused on the subject.
The American Heart Association also offers a course for those who have passed their AHA ACLS course. This is the Advanced Cardiovascular Life Support Experienced Provider course.
If you would like to have a deeper level of understanding of the techniques, conditions, emergency procedures, medications etc you can take the experienced provider course. This course is very advanced and is only suitable for those who are ACLS certified and are regularly involved in resuscitations. The instructor will expand on the information you learned at your advanced cardiac life support class and also cover areas such as advanced life support in cases involving drowning.
There are so many causes of cardiac arrest and the team of professionals dealing with these patients need to be able to recognize the different causes and deal appropriately. For example the advanced ACLS course will cover toxicological emergencies in more detail as well as environmental, cardiovascular conditions and electrolyte abnormalities. You will have to complete a written exam and a skills assessment in order to receive your American Heart Association ACLS experienced provider certification.
Why take American Heart Association courses?
The American Heart Association is committed to its aim of improving the survival rate from heart disease via a combination of education for professionals as well as members of the public. They achieve this aim by educating members of the public about their diet, raising awareness of the need for CPR certification as well as providing various training courses either online or via the classroom.
In addition to drawing up the ACLS provider manual they also provide ACLS certification training and education to healthcare professionals. The AHA does their best to tailor their courses to meet the needs of a specific group of attendees.