Lifesaver – interactive online first aid film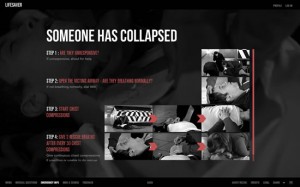 The Resuscitation Council (UK) has combined forces with award-winning production company UNIT9 to develop Lifesaver. Lifesaver combines interactivity with live-action film to teach how to save someone's life. It throws you into the heart of the action – You learn by doing: do it wrong, and see the consequences; do it right, and sense the thrill of saving a life. Lifesaver is completely free.
Lifesaver is a brilliant new interactive first aid film from The Resuscitation Council (UK). Watch a number of first aid situations and then choose the correct first aid treatment for each situation. There's also an app available for iOS and Android.