How to take a temperature with a digital thermometer
A normal temperature ranges from 36 to 37 degrees Celsius. A fever may indicate an infection or an illness. People often use a thermometer to measure their body temperature at home when feeling ill.
The thermometer measures the internal temperature of the body. Body functions are impaired if the body temperature is too hot or too cold. Being able to accurately record a temperature is an important skill for a first aider to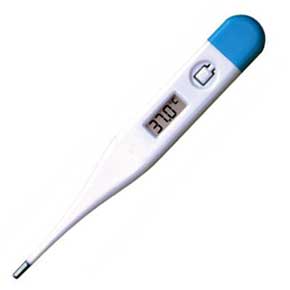 acquire.
Temperature measurements can be taken in the following ways:
oral – under the tongue
axillary – under the arm
tympanic – in the ear
temporal – on the forehead
Oral
Place the thermometer under the tongue wait until the digital thermometer beeps. Remember not to take an oral temperature right after eating or drinking something hot because it will alter the results.
Do not place a thermometer in the mouth of casualty who is suffering from seizure, has head injuries or is an infant.
Axillary (armpit)
Place the thermometer under the armpit with the tip in the deepest crease and wait until the digital thermometer beeps.
Temporal (forehead)
Press button down and sweep probe across forehead. This is fairly new technology, but is very quick and easy to use (useful on distressed children!)
Tympanic (ear drum)
Pull top of earlobe up and back. Place tip (covered with probe cover) in ear canal opening and press button until it beeps. Be sure you are pointing the probe into the ear canal opening and not at the wall of the ear, as this can result in incorrect results.