How to Renew CPR Certification? 5 Quick and Easy Steps
We never know when a critical and life-threatening situation could present itself where a person needs CPR. Knowing how to give CPR can help you save someone's life.
For this, you need to get a CPR certification, and here are a couple of things to know about it:
Being CPR certified means finishing a training course that discusses the crucial techniques and skills required to perform CPR.
Renewing your CPR certificate is required so you stay updated with your skills.
A CPR certification usually needs to be renewed every two years.
The renewal of a CPR certificate can happen online, making the process much easier.
If you're wondering how to renew your CPR certification, we will be giving you all the details about the procedure in this article.
How to Renew CPR Certification Online?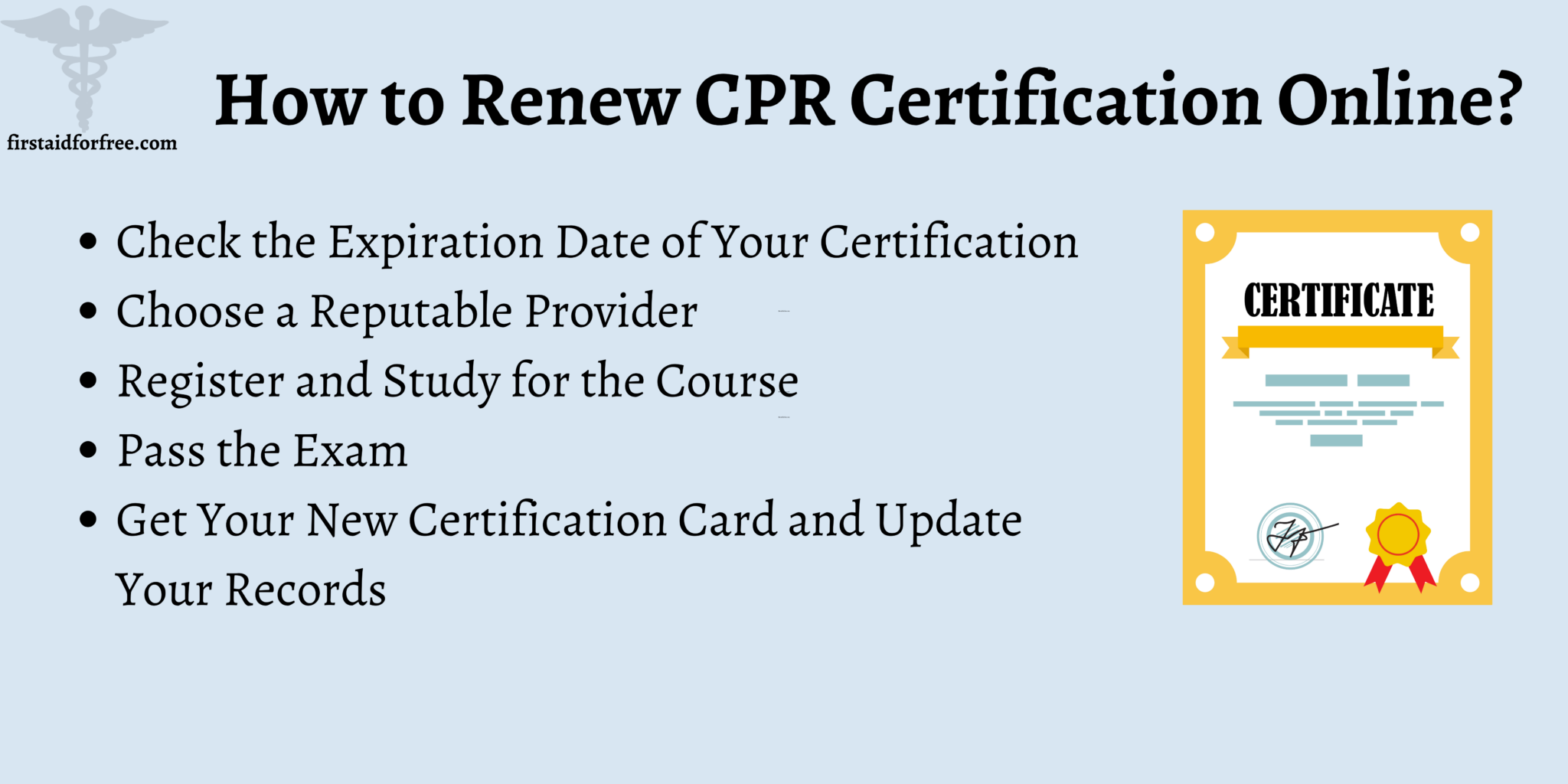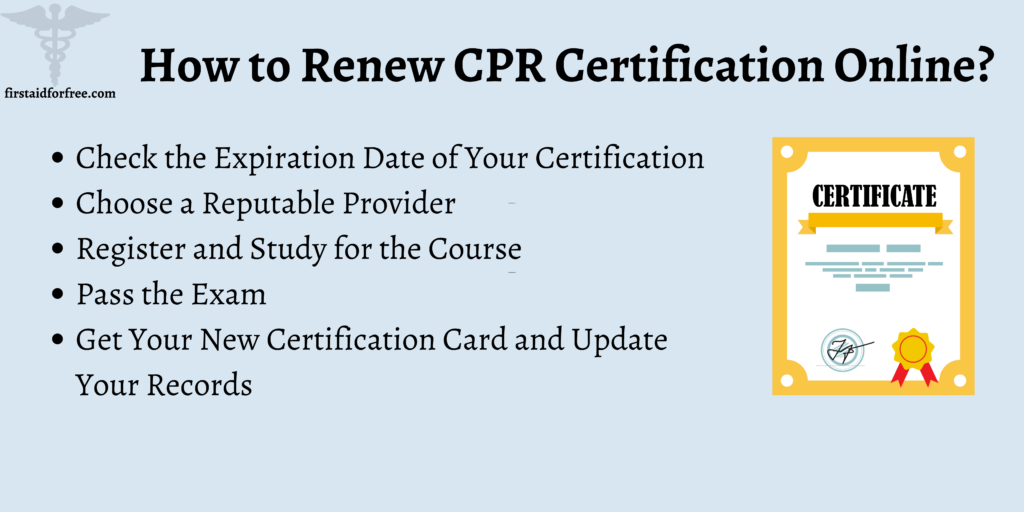 Listed below are the steps involved in renewing a CPR certification online:
Check the Expiration Date of Your Certification
Find out the expiration date of your CPR certification. You can easily find it on your certification card or through an email confirmation you must have received with your certification.
Most organizations send a reminder anywhere between one to four weeks before your certification is about to expire.
Choose a Reputable Provider
Select a reputed CPR certification provider. Choose one based on your schedule and convenience. Through an online course, you can have your certification renewed in just a few minutes.
Remember that just because you completed a course online in a short period of time, it doesn't make your skills or certification any less valid.
Register and Study for the Course
Register for the CPR renewal course from the provider you have chosen. As it's an online course, you can finish it the same day you register for it.
Thanks to the flexibility offered by such online courses, you can study and prepare at the pace that best suits you and get your certificate renewed quickly. The course will cover subjects such as:
Updated guidelines
Techniques of CPR
Changes or advancements made to the recommended procedures
Pass the Exam
Once you are done with the course, you will have to sit for an online exam. Since the exam is virtual and not in-person, you will be tested on your cognitive understanding of the topics related to the course and not your practical knowledge of performing CPR.
As it's not practical to have a CPR mannequin at every home, you can also practice the CPR process by using a stack of pillows.
Get Your New Certificate and Update Your Records
After you pass the exam, you will receive your digital CPR certificate. As you are completing a course online, you will receive a digital PDF copy of your certification that you can print out and present as a physical copy. You can carry it with you and present it to your employer if your job requires you to have a certification.
Ensure to store this certification card very carefully and update your employment records as required.
Importance of Having a CPR Certification
While it's a wise idea for anyone to get a CPR certification, it's necessary for people in certain industries, especially if their employers require them to get one. The jobs where CPR training is necessary include:
Healthcare providers
Airline employees
Lifeguards
Teachers
Security personnel
Physical therapists
Athletic coaches and trainers
Law enforcement officers
Some might wonder why it's vital to get a CPR certification renewed. Let us tell you the reasons why:
It helps in keeping a person's CPR skills effective and sharp.
New scientific information and updated research bring about new recommendations and regulations when it comes to CPR. Therefore, by getting your CPR certification renewed, you get to learn about the new techniques being recommended by healthcare professionals.
Since putting your CPR skills to the test isn't something you do frequently, renewing your certification lets you brush up on your skills.
FAQs
Can you perform CPR if your certification has expired?
Yes, you can perform CPR even if your certification has expired, especially in emergencies.
What does AED mean in CPR?
An AED, or an automated external defibrillator, is a medical device used to help those who go through sudden cardiac arrest.
How often do you have to renew your CPR certification?
A CPR certification usually needs to be renewed every two years, but it also depends on the organization and the kind of profession you are in.
Is a CPR class hard to pass?
No, a CPR class is designed in a way so that it's not too difficult to pass it.
How long does it take to get CPR certified?
The course involved in getting CPR certified can be completed in about four hours.
Conclusion
The key takeaways from this article are:
A CPR certification is a requirement in many fields and professions.
Learning about CPR through a CPR course can help you save someone in emergency situations.
It's important to know when your CPR certification is expiring so that you can get it renewed.
New recommendations and regulations keep getting added to the procedure of CPR, and having your certification renewed helps you learn about them.
By renewing your certification online, you can get the entire process done quickly and at your convenience.
The course you take to have your CPR certification renewed lets you brush up on your skills and learn about the new recommendations being suggested by healthcare professionals.