What does COWS stand for in first aid?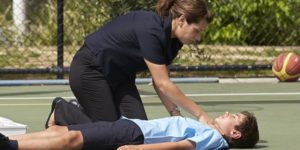 COWS is a method of assessing a victim's level of response in an emergency situation.
Although a slightly unusual acronym, it does remind first aiders of the importance of assessing the level of response in a methodical way.
COWS stands for
Can you hear me?
Open your eyes
What's your name?
Squeeze my hand
If someone does not respond to any of these commands then they are not responding to verbal commands. The next step would be to gently squeeze their shoulders to see if they respond. If they do not then they are unconscious and this a medical emergency.